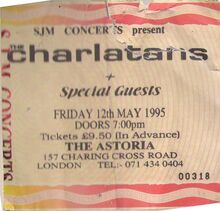 I Never Want An Easy Life If Me And He Were Ever To Get There
Can't Get Out Of Bed
The Only One I Know
Here Comes A Soul Saver
Weirdo
Jesus Hairdo
Another Rider Up In Flames
Happen To Die
Autograph
Then
(Sproston Green)
Setlist incomplete. Assume Sproston Green was played.
The Bluetones • Flavour
Known Recordings Edit
AUD / ANA / 30 incomplete due to equipment malfunction.
Partial fragment of show survives on this audience tape - all tracks above except Sproston Green. Not great quality recording. (Note - 'Autograph' and 'Then' were definitely recorded but are currently lost)
PRO? A complete professional / soundboard recording might exist as the show might have been recorded by Fuji TV as per previous night
Ad blocker interference detected!
Wikia is a free-to-use site that makes money from advertising. We have a modified experience for viewers using ad blockers

Wikia is not accessible if you've made further modifications. Remove the custom ad blocker rule(s) and the page will load as expected.