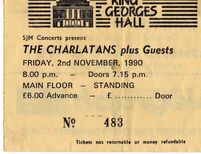 The Only One I Know • You're Not Very Well • Polar Bear • Can't Even Be Bothered • Flower • Over Rising • Then • Indian Rope
Notes Setlist incomplete, above tracks broadcast on BBC Radio
Known Recordings Edit
PRO complete show must exist, recorded by BBC radio
FM Incomplete - appears on 'Blackburn' and 'Guardian Angels' vinyl bootlegs and multiple home recordings.
Bootleg Releases Edit
Official Releases Edit
None
Ad blocker interference detected!
Wikia is a free-to-use site that makes money from advertising. We have a modified experience for viewers using ad blockers

Wikia is not accessible if you've made further modifications. Remove the custom ad blocker rule(s) and the page will load as expected.